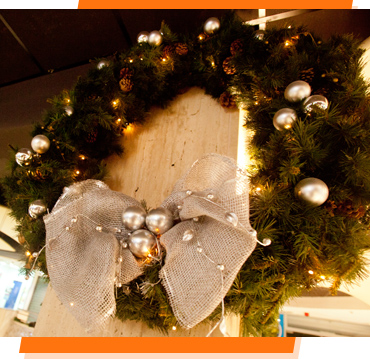 There is something about Christmas that makes it a special time of the year. Days are shorter yet there is further scope to use lighting and all the decorative features that add a special atmosphere to this festive season.
Festive Christmas lighting makes all the difference, whether it is in the lighting of the exterior of landmark public buildings, hotels, commercial centres and other prominent façades, or for the public areas and interiors of restaurants, halls and shopping malls. D Illumination prides itself with creating LED Christmas motifs, decorations and festive lighting that is tailored to your needs and budget.
With over 20 years of experience and ever specialised technical knowledge in the sourcing of the right product, design, visualisation and installation of commercial Christmas decorations and all sorts of fairy lights and Christmas tree lighting, we can guarantee you will make the right impression. Our festive lighting displays are of an extremely high standard in terms of performance, safety and cost effectiveness.
Our design lighting consultants go into every detail of your project and can either handle it comprehensively or simply add that extra special single touch that will make all the difference. Whether you are out to create a traditional or modern Christmas lighting effect, we have the solution. Our comprehensive service includes assembling and installing of all the lighting displays, ensuring they are well maintained throughout the period they will be used, dismantling them at the end of the festive season, carrying out any repairs before storing them safely in readiness for the next Christmas season. Click on the relevant section below to get a detailed description of the full service that we offer.